SEARCH ENGINE SUBMISSIONS
The inexpensive first step to building quality website traffic
Recent research has shown that more than 80% of World Wide Web users find Web sites via search engines. Of that 80%, the vast majority use one of the top twelve search engines. Clearly, effective search engine optimization is important to an effective Web site.

Search Engines
Our Marketing staff thinks like your target market(s). What words and phrases might they type in when searching for the services that you offer? We then use Search Phrase/Keyword tracking tool to find out exactly what search phrases and keywords your potential customers are using.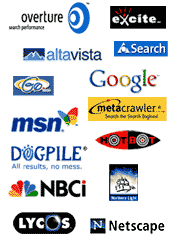 We review your Web site pages to make sure the body text has a tight focus and that it is reinforced by meta and title tags containing important keywords and phrases.

Once the necessary marketing elements have been integrated into your Web site and your site has launched, we submit each page of your Web site to the Search Engines, thus creating multiple potential avenues of entry.

We then monitor your Web site until we are satisfied that it has been indexed effectively. This process can take anywhere from several weeks to several months, depending on the specific Search Engine and submission services used.
Search Directories
Search Directories are different from Search Engines in that they use editors (actual people) to review your Web site submission. Editors can modify various elements of your submission including the title, description and even the category you submit under.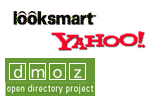 Currently Yahoo! and LookSmart are edited solely by Yahoo! and LookSmart staff members. They both offer an expedited listing service. We strongly recommend using the expedited listing services for these two directories.
Open Directory is structured with a more open format. This Search Directory relies on volunteer editors to build out its content. CALIFORNIA WEB DESIGNs' marketing staff includes volunteer editors for Open Directory. The resulting editorial privileges allow us to include our clients in this Directory in a timely and effective manner.